Roots Music Shop buys, sells, and trades quality musical gear. Our frequently changing inventory ranges from quality used instruments to extremely rare vintage gear as well as new instruments for beginners. But don't worry if you're just starting out. Our staff is friendly and knowledgeable. They'll help you find what's right for you. And if we don't have what you want, let us place a special order for you.
Band Instruments
Our reconditioned instruments for the new or intermediate music student have a special Band Instrument Warranty.
• Woodwinds
• Brass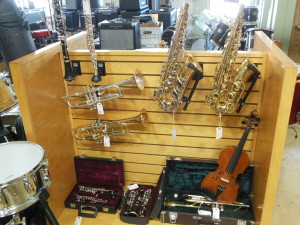 Strings
We carry new, used and vintage guitars. Check out our top quality Canadian-made acoustic guitars by Godin.
• New guitars
• Used and vintage guitars and basses
• Amplifiers in a variety of configurations.
• Guitar effects pedals, strings, and other accessories
Percussion 
Drum sets and accessories steadily flow in and out of Roots Music Shop. We admit it—we have a weakness for percussion instruments.
• Drum sets from beginner to pro levels
• Vintage drums
• Hand drums and world percussion
• New and used cymbals from many different makers
• Thrones
• Sticks
• Pedals, drum heads, hardware, stands and other accessories
Pro Sound Gear
We carry both new and used professional quality sound gear. The selection of used gear sold below retail prices attracts many of the local sound technicians to the store on a weekly basis so the inventory changes regularly.
• Speakers
• Mixers
• Digital recorders
• Road cases
• Cables and PA components
• Microphones and stands
Keyboards
The continual updating of new electronic keyboards helps us maintain a steady supply of used keyboards and synthesizers sold or traded to the shop.
• Used keyboards
• Vintage synthesizers
Books
Give books as a gift—to yourself or others.
• Beginning instruction books
• Advanced instruction books
• Popular musical biographies
WE BUY MUSICAL INSTRUMENTS
Our goal is to offer the best prices for your used instruments and gear. Plain and simple. We're also open to trades, so bring in your musical instruments and let us take a look.